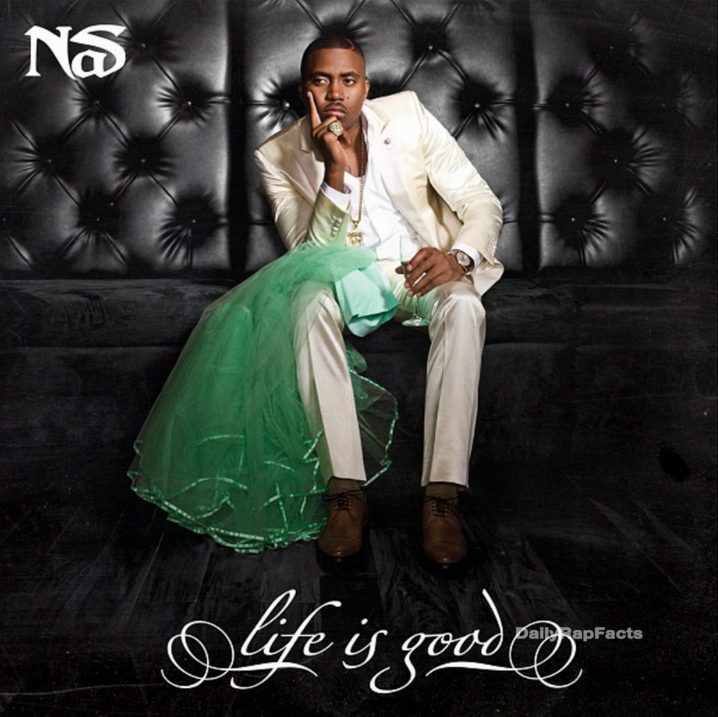 Nas released his tenth studio album "Life is Good" on July 13, 2012. The cover art featured Nas wearing a cream colored suit while draped on his lap is a green dress which belonged to his ex-wife, R&B singer, Kelis.
Nas revealed why he had the dress on his cover during his episode of VH1's "Behind The Music," Mr Jones said: "She took her stuff out of the house and left her green wedding dress, and that was all she left."
Watch from 29:00
During a 2012 interview with MTV News, Nas revealed the meaning behind the album.
"It's been a long time; it's been years since I released a solo studio album, so this record is everything," he said. "This is everything that I've got to say, I guess you've got to live a little and you put that in your music, so it's coming from my life." Nas says.
After dodging the question for a while, Kelis opened up about her dress on the "Life is Good" cover in an interview with NME: "My feelings about it are not really relevant, but you know at the end of the day Nas is an artist. And for whatever it's worth he's one of the greatest, and especially for what it is he does. So for me, I feel like especially for someone in hip-hop to kind of be genuine and honest, whatever the honesty is about, I think it's awesome. So my feelings about it aren't really necessarily valid, it's just the fact that as an artist I can respect that he wears his feelings on his sleeve."
Kelis didn't find it awkward at all, she respect Nas' artistry.
The dress also made a cameo in Nas' music video for Bye Baby.
Read: Nas almost suffocated during the "I Am…" album cover shoot
Read: Nas' daughter Destiny is listed as an Executive Producer on Stillmatic so she'll always receive royalty checks it