If you call yourself a Lil Uzi Vert fan, here are 11 interesting facts you might not know about Symere Woods, AKA Lil Uzi Vert or Lil Uzi.
11. Lil Uzi Vert's biggest inspiration is Marilyn Manson. When he was younger he discovered Marilyn Manson after watching an episode of MTV's celebrity death match which featured a match between Marilyn and singer Ricky Martin. Uzi immediately became a fan and listened to Marilyn Manson on repeat . Lil Uzi Vert has a Marilyn Manson chain which cost him a $220,000 dollars. The chain and pendant combined has more than 16,000 diamonds and 155 carats. Uzi is such a big fan of Marilyn Manson that he says he will die for him. Let's hope not, we still want a lot of music from Lil Uzi Vert.
Read: Lil Uzi Vert's biggest inspiration is Marilyn Manson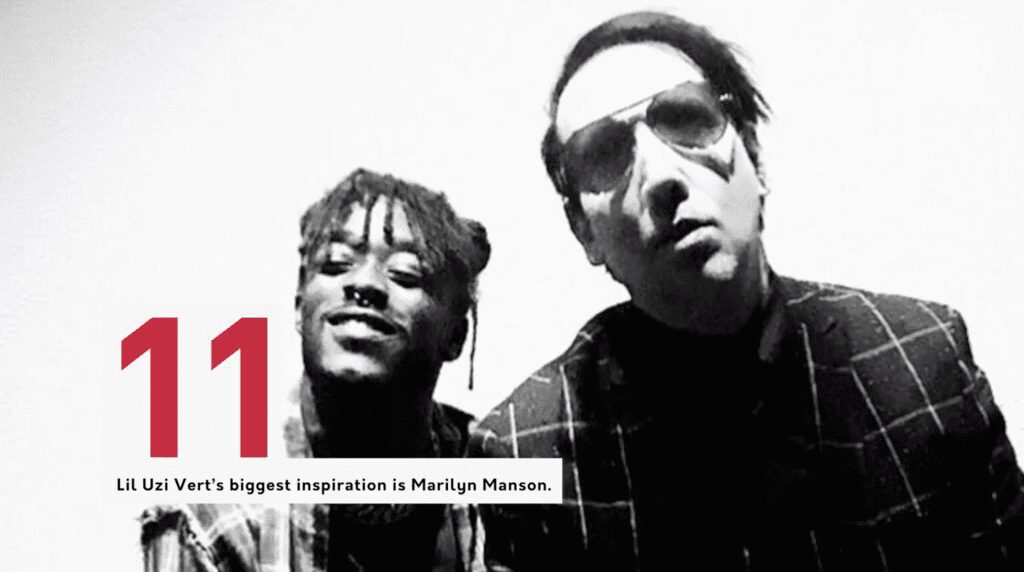 10. Lil Uzi Vert's first and only job was as a stock boy for a grocery store called Bottom Dollar Food in Philadelphia. Lil Uzi Vert worked part-time for four days before quitting. After his mother found out he quit the job and wanted to rap she kicked him out of the house and he went to live with his grandmother. A couple months after Lil Uzi Vert quit, Bottom Dollar Food went out of business.
9. Lil Uzi's main purpose for his face tats were so he wouldn't get hired for a job again. The first face tattoo he got was the word "Faith" tattooed on his forehead. He did it so nobody would hire him and he can focus on his rap career. Lil Uzi now has over a dozen face tats.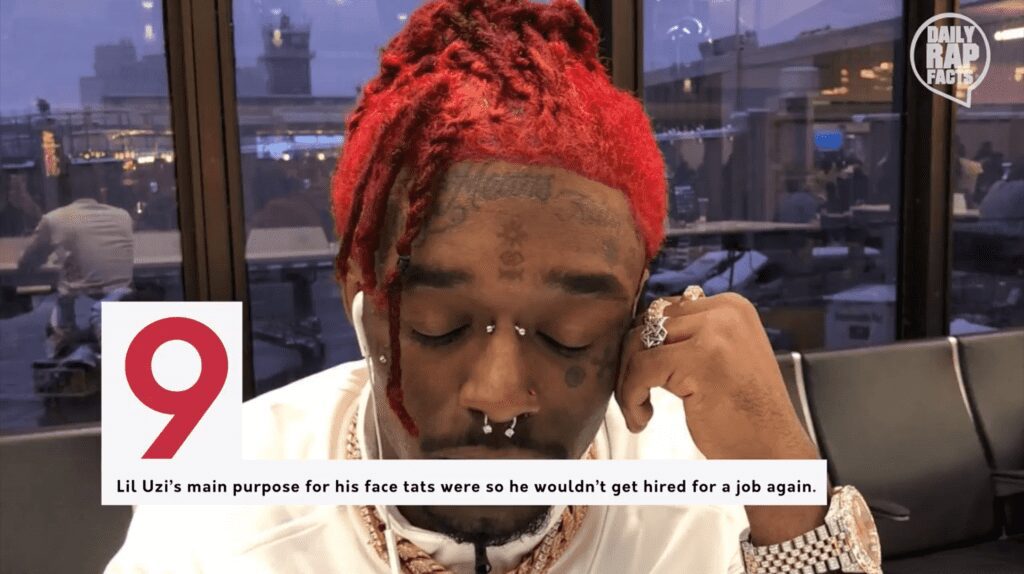 8. Lil Uzi Vert has a number of Adinkra symbols from the Asante tribe of West Africa tattooed on his face even though he has no ancestral connection with the tribe.
7. Lil Uzi Vert got his stage name after a guy approached him and told him he rapped fast like a little machine gun,  from that moment on he was Lil Uzi. The Vert stands for vertical because that's the way he wanted to go in the industry. Straight up.
6. Lil Uzi Vert's grandmother gave him his first rap CD. The CD was by the Ying Yang twins who Lil Uzi Vert grew up listening to, alongside Mike Jones, and later Pennsylvania natives Wiz Khalifa and Meek Mill.
5. Lil Uzi Vert played the trumpet in high school, he played it to stay out of trouble and the first song he learned on it was hot cross buns.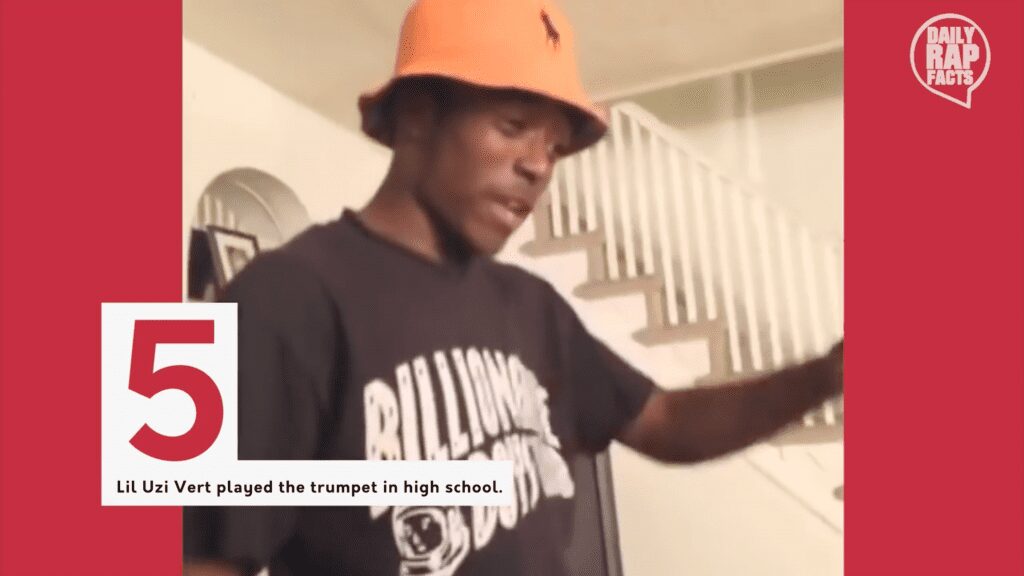 4. Lil Uzi Vert is very into anime, he thought anime was weird at first but feel in love with it after watching adult swim and learning about it more with his then girlfriend Brittany Byrd.
3. Lil Uzi Vert's first car ever was a grey Lamborghini with a burgundy soft top. Lil Uzi Vert now owns over six different luxury cars which included a Bentley, Rolls-Royce, Audi, Lamborghini and more.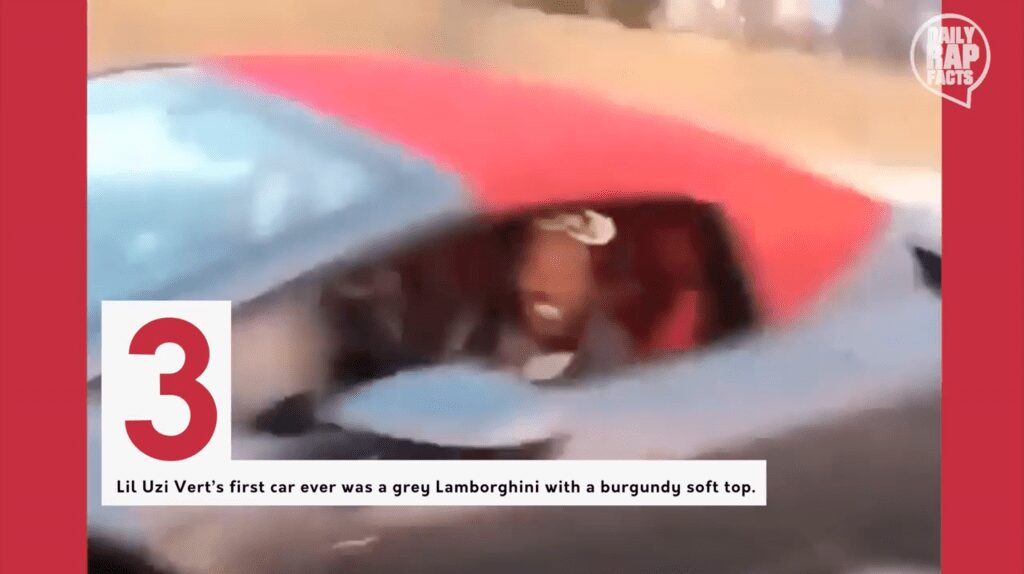 2. Lil Uzi Vert is a Katy Perry fan and he says he wants to collaborate with her in the future. I'm sure Lil Uzi Vert and Katy Perry fans are interested to hear how that collaboration would sound.
1. Lil Uzi Vert considers his grandmother his best friend. Lil Uzi Vert says his grandmother has been a big support of his and she knew he had the potential to make great music from the start. Lil Uzi Vert has also bought her a nice house in the suburbs of Philadelphia.
Read: 11 facts you didn't know about Kanye West
Read: 11 facts you didn't know about Travis Scott
Read: 11 facts you didn't know about J. Cole