The Go Getters was a Chicago-based rap group that featured Kanye West, GLC, Timmy G, and Arrowstar.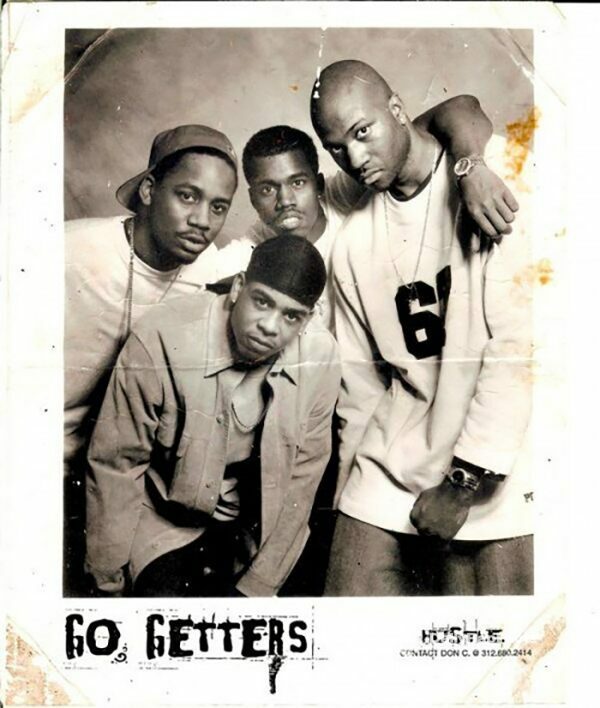 Before Kanye West was known as the Kanye we all know today, he was in a rap group called The Go Getters which also consisted of GLC, who would later be signed to Kanye's G.O.O.D. Music label, Timmy G, and Arrowstar. Kanye West had made a name for himself as a producer but before he ventured into solo rapping and formed the The Go Getters circa the late 90's. The group would break up when Kanye West moved to New Jersey to be close to New York to produce for Jay-Z and many more rappers.
The group never released an official album but in the early 2000s a mixtape/compilation project titled World Record Holders that featured some of The Go Getters records was released.
World Record Holders Tracklist
1. World Record Holders Intro
2. World Record Holders (GLC, Kanye West, Timmy G)
3. Nothin's Gonna Stop Me (Kanye West)
4. Dem Guys (GLC, Timmy G)
5. Ghetto Senorita (Miss Criss, Kanye West & Shayla G)
6. All I Need (Kanye West, Mikkey Halsted, Miss Criss, Brian "All Day Miller)
7. Foolish Game (Mikkey Halsted, Brian "All Day" Miller)
8. No Luv (GLC, Timmy G)
9. Fight With The Best (Kanye West, Rhymefest & Mikkey Halsted)
10. 10 In A Benz (Rhymefest, Kanye West, Andy C)
11. Uh Oh (Kanye West, Timmy G, GLC)
12. Mind Yo Business (GLC, Timmy G, Kanye West)
13. Let Em In (Kanye West, GLC, Timmy G)
Read: Kanye West cut Pusha T's "I Don't Like" verse from 16 bars to 8 bars
Read: 5 facts about Kanye West's 'DONDA' album
Read: Kanye West originally produced and wrote "Gold Digger" for Shawnna
Read: Kanye West produced Drake's track "Two Birds, One Stone"