Sean Kingston has listed his Home Studio in Miami, Florida on Stufinder for $30k an hour including verse
In support Stufinder's mission of providing transparency for artists, the internationally acclaimed singer and songwriter, Sean Kingston, has recently listed his home studio on Stufinder, the renowned online platform for renting recording spaces. What's more astonishing is that he's offering a package deal for $30,000 an hour, which includes a verse recorded by the man himself. If you're a budding artist or simply looking to capture some of that Sean Kingston magic, this could be your golden ticket.
Sean Kingston: A Melodic Maestro
Before diving into the details of his home studio listing, let's take a moment to appreciate the musical genius of Sean Kingston. Known for hits like "Beautiful Girls" and "Fire Burning," Kingston has been a dominant figure in the music industry for over a decade. His unique blend of reggae and pop elements, combined with his distinct voice, has made him a household name in the world of music.
The Offer of a Lifetime
Sean Kingston's decision to open his home studio to aspiring artists is a remarkable opportunity. For $30,000 an hour, you can book a session at Kingston's state-of-the-art recording space. This fee not only grants you access to his fully equipped studio but also includes a custom verse by the artist himself, making it a one-of-a-kind experience.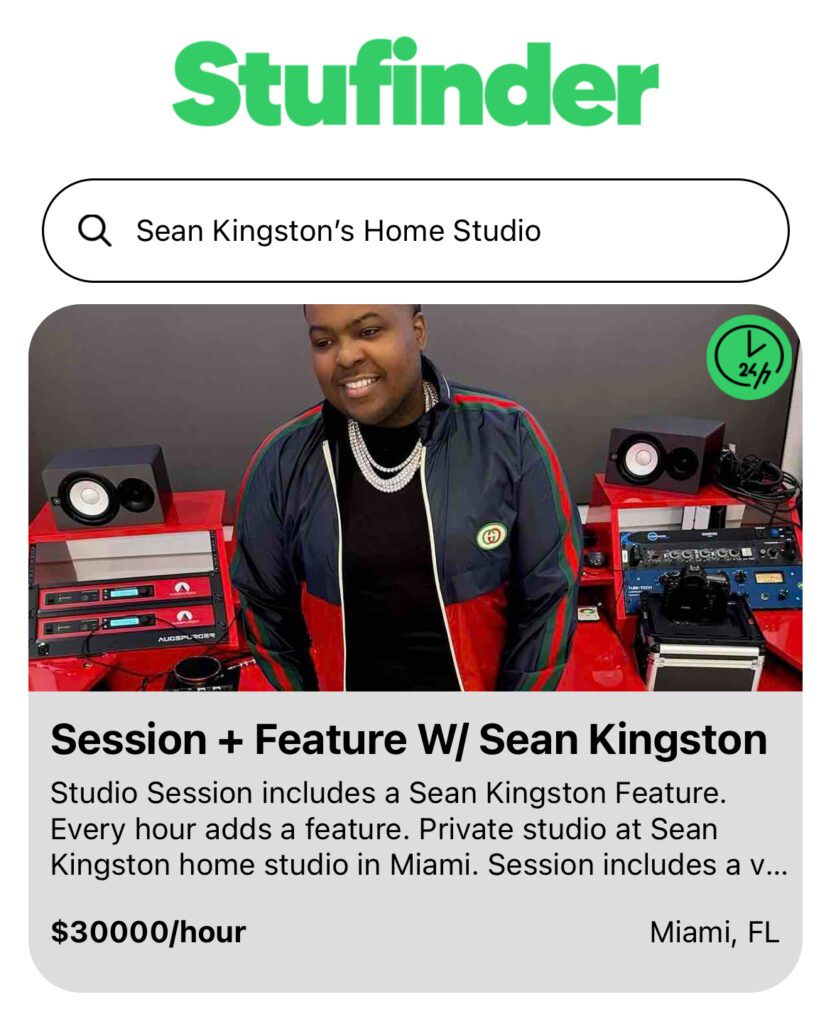 A Glimpse into Kingston's Home Studio
Kingston's home studio is a haven for music lovers. It boasts top-tier recording equipment, including the latest microphones, mixing consoles, and instruments. The studio's design and layout have been meticulously planned to offer the best possible recording experience, ensuring that the artist can harness their creativity to the fullest.
The atmosphere in Kingston's studio is equally important. His setup reflects his own artistic vibe, adorned with inspiring artwork and memorabilia from his successful career. This ambiance can undoubtedly ignite the spark of creativity in anyone fortunate enough to record there.
The Exclusive Verse
The standout feature of this offer is, of course, the verse Sean Kingston himself will provide. Whether you're a seasoned musician or just starting out, having a verse from a multi-platinum artist in your track is an invaluable asset. Kingston's distinct voice and lyrical prowess can elevate your music to new heights.
This feature isn't just limited to a specific genre. Kingston's versatility allows him to work with artists across various musical styles, making this offer suitable for a wide range of musicians.
A Chance to Collaborate
Not only does Sean Kingston offer his vocal talents, but he's also open to collaborating with artists on their tracks. This collaborative aspect can be an incredible learning experience and an opportunity to receive guidance from someone who has navigated the complex world of the music industry successfully.
Is It Worth the Price?
While $30,000 per hour may sound steep, it's crucial to understand the value this offer presents. In the world of music, networking and collaborations can be a game-changer, and having a well-known artist like Sean Kingston on your track can open doors that might have otherwise remained closed.
Additionally, the experience of recording in Kingston's studio is priceless for any musician looking to take their craft to the next level. The comfort, inspiration, and state-of-the-art equipment it provides can significantly impact the quality of your music.
Sean Kingston's decision to list his home studio on Stufinder is a unique opportunity for any musician or music enthusiast. The chance to record in an environment that has witnessed the creation of chart-topping hits and to collaborate with a musical legend is something that cannot be quantified easily. If you have the resources and a passion for music, this exclusive offer might just be your ticket to musical stardom.
With only a limited number of hours available, you'd better act fast if you're looking to seize this opportunity. Sean Kingston's home studio listing on Stufinder is a musical journey waiting to be taken, and it's an experience that can shape your musical career in ways you might have never imagined.