"The album before the album"
In the fall of 2013, Nipsey Hussle released his mixtape, Crenshaw, hosted by DJ Drama. The late Ermias Asghedom sold physical copies of the mixtape for $100 apiece. Jay Z even purchased 100 copies of Crenshaw. Selling 1000 copies, Nip had bigger plans. This plan came to fruition the following year.
Nipsey Hussleś Mailbox Money mixtape released on December 31, 2014. Priced at $1,000 per copy, the industry thought he was crazy, but Nipsey knew his ability and didn't fold on his ambition.

"I knew the next to do was to drop music and I had a ton of ideas and I had a ton of things to talk about," Nipsey said in an interview with Rap Radar. "So Mail Box Money was that statement after Crenshaw. And I'm proud of that."

And people were proud to get behind Nip's #Proud2Pay campaign; the support led to new heights.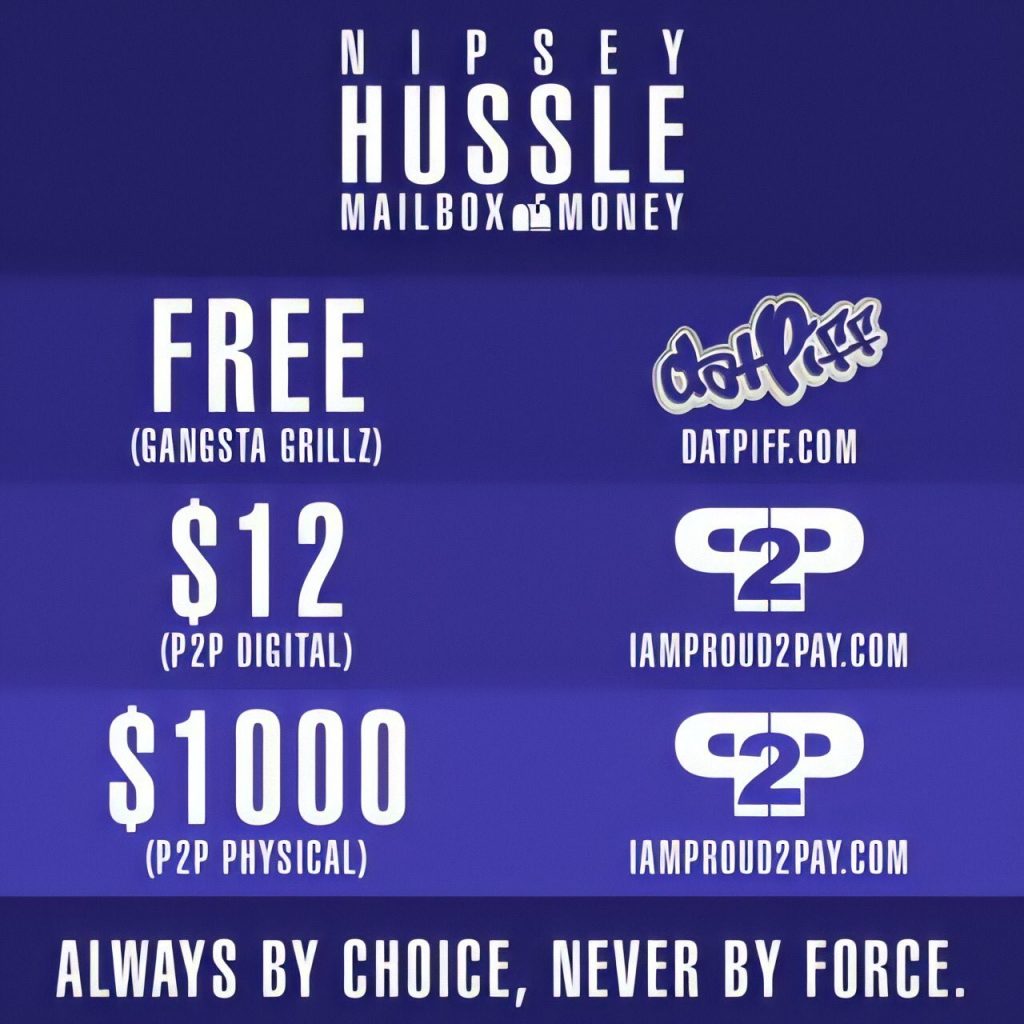 Mail Box Money featured Buddy, Rick Ross, Dom Kennedy, J. Stone, Trae tha Truth and more.
In a 2014 interview with XXL, Nipsey had this to say on why he chose to sell Mail Box Money copies for $1,000 each:
"It's some things that come with the private pay package. We've been building this Marathon store in L.A. at a secret location. It's basically going to be the home base of our brand (Crenshaw clothing line and these Proud 2 Pay products). They're going to live and exist at the store. So if you buy Mailbox Money you'll get a product that I haven't announced yet, access to the secret store that we're getting ready to have the grand opening for and you get to hear Victory Lap exclusively with me in this place that we built. It's an experience. We can't fit more than a 100 people in the store. We just wanted to do something different this time."
Nipsey's quality of music has been pushed, sonically, to have album-quality outcomes, but once his final body of work Victory Lap released in early 2018, there was a clear distinction of project, mixtape and album. There's not a day that has gone by since Nip's tragic passing where you can't find him on your social media. One thing is for certain: he did things his way. All money in, no money out. With each release, Nipsey left a blueprint that led him to Victory Lap. You could say it was the law of attraction.
Mailbox Money – Track-list
1. Killa (prod. by Wizzo, co-prod. by Ralo)
2. A Hunnit A Show feat. Rick Ross (prod. by Hit-Boy)
3. Status Symbol feat. Buddy (prod. by Drewbyrd)
4. That's How I Knew (prod. by Sap and Kicken J)
5. Count Up That Loot (prod. by Drewbyrd)
6. Only A Case feat. G.I. Joe and Conrad (prod. by Scoop Deville)
7. Where Yo Money At? feat. Pacman (prod by DJ Mustard)
8. Between Us feat. K Camp (prod. by THC)
9. Real N***a Moves feat. Dom Kennedy (prod. by Mike and Keys, Uncle Dave, co-prod. by Rance of 1500 Or Nothin)
10. Stay Loyal feat. J Stone (prod. by THC, co-prod. by Rance of 1500 Or Nothin)
11. A Miracle (prod. by Mike and Keys, DJ Khalil)
12. No N***a Like Me feat. Trae Tha Truth (prod. by THC)
13. 50 N***az (prod. by Mike and Keys, co-prod. by Rance of 1500 Or Nothin)
14. Be Here For A While feat. Vernardo (prod. by Polyester)
15. Overtime (prod. by Ralo, co-prod. by 1500 Or Nothin)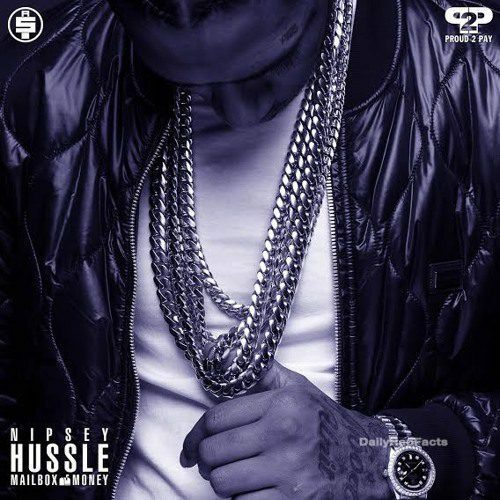 Read: Jay-Z once bought 100 copies of Nipsey Hussle's Crenshaw mixtape for $100 a copy