Tupac and Jada Pinkett-Smith both went to the same high school Baltimore School for the Arts.
Both Tupac Shakur and Jada Pinkett-Smith went to the same high school The Baltimore School for the Arts, located in Baltimore, Maryland, where they first met and Tupac also took ballet in the 1980's.
The two met on their first day of high school and became very close friends as Tupac took theater, ballet, dance, and majored in poetry and jazz, while Pinkett Smith majored in dance and theater.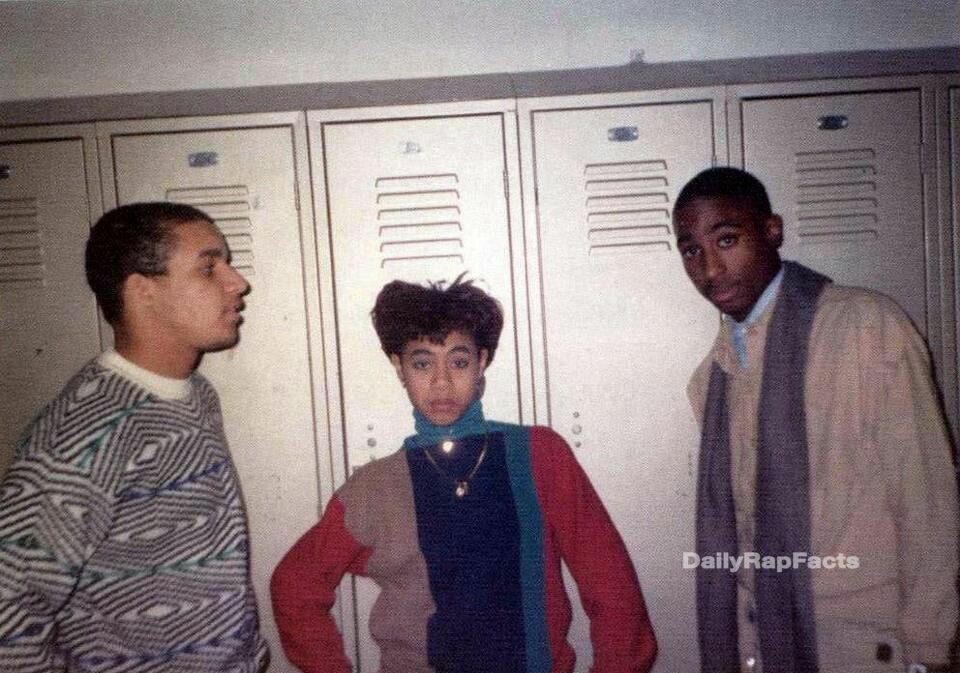 "It was the first day and he came over to me and introduced himself and in high school, Pac was a little funny looking. Definitely from looking at him, wasn't necessarily the type of cat that I would even like, deal with. But as soon as he approached me, he was like a magnet. Once you paid attention to him he kind of sucked you in. And we hit it off from that moment on… I don't think either one of us thought we would have made it in the way that we did, but we knew we were gonna do something. He was one of my best friends, he was like a brother." – Jada Pinkett Smith on Tupac.
As teens the two even performed The Fresh Prince's "Parents Just Don't Understand" together. Long before Jada would meet Will Smith.
Jada Pinkett Smith revealed during an interview with SWAY in the morning that she was a drug dealer when she met Tupac; "When I first met Pac, when we first met, I was a drug dealer." she recalled.
They were very close friends in and after high school and Pac even wrote Jada Pinkett Smith a love letter 'Forever Yours, Tupac'.
Read: Lil Kim & Foxy Brown went to high school together
Read: Young Thug and Lil Baby went to the same high school
Read: G Herbo and King Von went to High school together
Read: Kendrick Lamar and Dr. Dre attended the same high school