Prior to Biggie sadly passing away in March 1997, he planned on forming a rap group called The Commission.
At the very beginning of Biggie's "What's Beef," you hear him say "The Commission"— which was going to be made up of Biggie himself (Franke White), Jay-Z (Iceberg Slim), Puff Daddy, Lance 'Un' Rivera —Producer (Uncle Paulie), Lil' Cease— Biggie's cousin (Caesar Leo DeGenero) and Charli Baltimore— a female rapper who had a romantic relationship with Biggie at one time.
"The Commission:
Uncle Paulie, P. Diddy, Cease-A-Leo DeGenero (yeahhh)
Charli Baltimore, Iceberg Slim
The most shady, Frankie Baby
We here (do you know what beef is?)
We ain't goin' nowhere (do you know what beef is?)
Uh-uh (ask yourself, do you know what beef is?)
Uh-uh, uhh"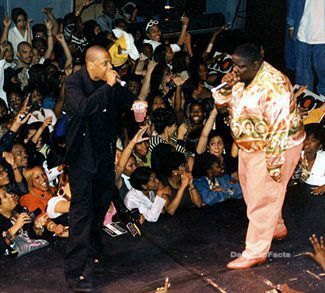 The group never released any songs together but Biggie and Jay-Z had already collaborated on "Brooklyn's Finest," "I Love the Dough" and "Young G's".
Read: The baby on the cover of "Ready To Die" is not The Notorious B.I.G.
Read: Afeni Shakur and Voletta Wallace, Tupac and Biggie's moms, met for the first time at the 1999 VMAs